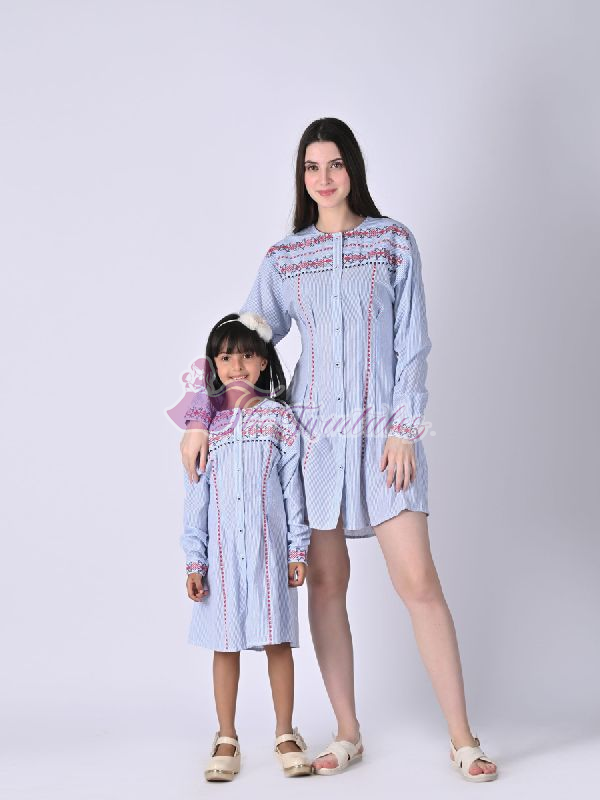 The garment is a common term for clothing. The garment is a piece of clothing manufactured with textile materials for protecting the human body and for decorative purposes. Garment material can be neutral or synthetic fibres. Garments are made of fabrics or textiles. Many garments are woven or knitted with different uses and names.
Mother and Daughter Combination Dress
Every mother loves to dress her daughter in the prettiest clothes. Mother and daughter matching dresses never go out of style. A unique combination of mother and daughter garments is the perfect choice for any special occasion.
A unique dress combination of mother and daughter can make precious memories. You must choose the perfect dress to make your little girl look like an angel. But it is essential to choose the right design and comfortable fit for your little princess.
Customised mother-and-daughter dresses can create a unique style statement. Try to choose comfortable, stylish, and designer mother and daughter same garments in India for your family.
Occasions for Buying Mother and Daughter Combined Dress
You can buy a stylish dress for you and your daughter for the following occasion-
Birthday- your daughter's birthday should be a precious occasion for you. Your daughter's birthday is a milestone event for you. On this occasion, you can choose designer and attractive pair of outfits.
Indo-western outfits can be a perfect choice for your daughter's birthday. You can wear this dress to cheer up your little princess on her birthday.
Festival- Festival is a unique program to celebrate with your family. If you want to make your favorite festival more unique and attractive, you should choose unique matching of mother and daughter dress.
If you want to dress up traditionally, you should choose a matching kurta set for you and your daughter. Ethnic wear, Sahar suits, and lehengas are popular for matching dresses for daughters and mothers.
A wedding is a function where you can show your style to your friends and family. A wedding is n event where you can show your style statement to others.
Bright-colored lehenga and customized suits can be unique matching dresses for mother and daughter. For the theme-based wedding, you can choose a custom designer suit for you and your daughter.
Benefits of Wearing a Matching Dress
Women's day is a significant occasion for all women and girls. If you want to signify women's day to your daughter, you should choose perfect matching outfits for you and your daughter. Try to choose a unique dress for your daughter to teach her something special on women's day.
You can get memorable photos of your daughter by wearing matching outfits on a particular occasion. You should wear matching outfits to create a great bond with your daughter. It can create a great bonding with your daughter. A matching outfit can create a unique bonding between you and your daughter. It can enhance your family value.
You can visit several online portals to buy the best type of mother and daughter same garments in India at an affordable price