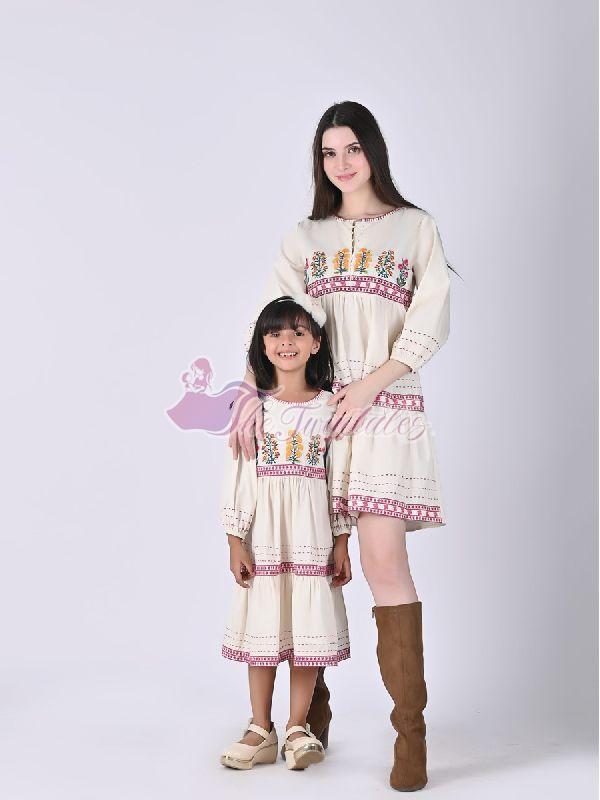 Comfortable clothing for summer is required due to the high temperatures and increased humidity. Always choose a low-effort, flowy casual summer dress that will allow you to breathe as the weather heats up. A casual dress is better than putting together various combinations of shirts, bottoms, and shoes.
Stocking up on summer casual dresses for women and kids is currently something that a lot of people are thinking about. As evidenced by Google Trends, it shows that searches for summer dresses have increased 170 percent over the past 30 days. Dresses give a casual silhouette without the extra effort, whether they are composed of chiffon or linen fibres.
How To Choose Materials And Fabrics For Summer Dresses
Whatever summer activity you choose to partake in, you should stick to comfortable materials when the weather gets warmer. While looking for summer clothing, the best advice is to go for a blend of cotton, silk, and linen. The thin, breathable fabrics assist to keep the body cool and fresh, making them ideal for hot climates.
Also, you should put on UPF clothing and sun protection accessories to enhance your skin's beauty and safety. Regarding dress types, it is advised to purchase sundresses due to their multipurpose qualities and versatility in accessorising.
Dress with Tinted Cape by Ayami for Women
Spins heads in this enormous collar-cape style that has been exquisitely constructed with crochet lace inserts. It has a mandarin collar, and a button placket opening in the front.
100% cotton stripe-dobby fabric is used, with personalised tie-dying. It has a huge cape collar with lace crochet inlays. Fully lined, it has a mandarin collar, and a front button placket.
Baby Pink Dancing Dress for Ladies
It is made with flawless detailing, smocking bodice, square neckline, cutwork embroidery, and puffy sleeves. The ultra-feminine Mini Dress elevates casual-lux style. The result is a captivating appearance.
Dress for Ladies in Blue with Tailored Collar
It has a midi-length mermaid form, contrast frill design on the collar and cuffs. With puffy sleeves, and buttoned front opening, it consists of all characteristics of the 1940s Vintage style. With an unlined puffy sleeve and fastened cuff, it has a mermaid shape. There is a substantial collar and hand rice stitching.
Women's Classic Denim Embroidered Shirt Dress traditional with a cool touch, this exquisite little shirt dress is featured in an always adaptable classic shape. It is created with gorgeous placement of cross stitch embroidery roses. With a front button placket opening, it has a traditional shirt dress shape. It features traditional rose placement embroidery on the collar and sleeves.
Conclusion
Summer casual dresses for women and kids should consist of cotton and bright colours. Water may be effectively absorbed by cotton. Summertime sweating causes people to perspire a lot, and cotton clothing absorbs this perspiration while exposing it to the air.
The body becomes cooler as a result of the evaporation. It is fuelled by particles on the surface of the sweat that have absorbed energy from our skin. The summer would be better suited for wearing light-coloured clothing because they are a poor heat absorber.